90% of Lantern Festivals around the GlobeAre from Zigong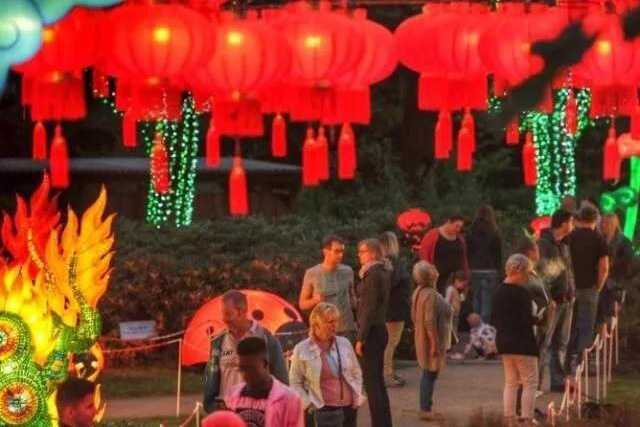 (July this year, Zigong Lantern Festival lighted up the Hamburg G20 Summit)
Zigong lantern industry relying on the renowned brand name of "Zigong Lantern Festival",has become one leading culture industry in China. Starting from 2000, from scratch, Zigong lantern industry grows from small to large, to currently the famous brand of international cultural exchanges. Today, more than 90% of the world's Lantern Festivalsare related to Zigong.

Five years ago, there were less than 200 Zigong lantern companies, and the output value was around 1 billion yuan, with exports of merely a few million US dollars. Now, there are nearly 600 registered Zigong lantern companies, with more than 200 specialized in lantern products, and the annual output value exceeds 2 billion yuan, with more than 40 thousandemployees.

In 2017, there are 97 registered companies on exporting cultural products like lanterns and simulated dinosaurs, which are5.7 timescompare the number in 2011; the export enterprises with self-owned goods and services trade reached 32, which is 6.4 times as that in 2011. In 2016, Zigong lantern foreign cultural trade once again made new height, the annual exports of cultural products and services totaling $21,770,000, an an increase of 29.7% comparing to the volume of the previous year.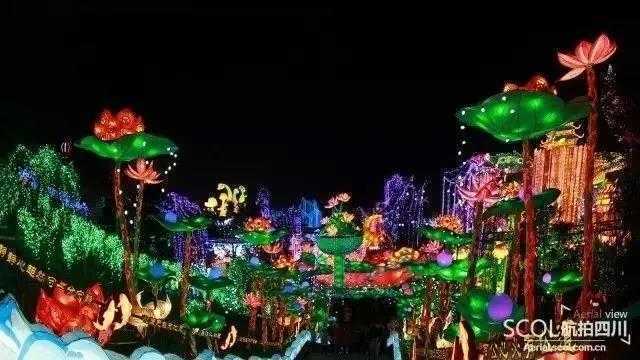 01 A baton passed down by generations
In July this year, Zigong Lantern Festival debutedin Germany and then later in Hamburg G20 summit, offering a colorful lantern feast for the heads of state attending the G20 summit of and the German visitors.

As the producer, wepresented the organic integration of unique Chinese lantern craftsmanship with modern lighting, showing the visual beauty of lantern art, and also the unique charm of Chinese culture.

"In fact, lantern is a popular culture, with great diversity and commonality. It can adapt to a variety of environments, into the local culture and life." said Chen Shi, assistant to the general manager of international business office. Zigong lantern has a unique advantage, and it is influencing the whole world.
Influencedby his father, Chen Shi entered the Lantern industry. In 2000, the municipal government allowed private running of lantern shows and business. Subsequently, Chen Shi's father Chen Jiaming set up a lantern company in 2001, "it isthe twenty-third registered lantern enterprise."Chen Jiaming has been in the lantern industryfor decades, and he has deep affection towards lantern industry. "Although I majoredin Chinese language, but I like painting and enjoy design lamps."

With more than twenty years' experience in lantern industry,Chen Jiaming was known as "the crazy lanternman", and any time and any place, he could be inspired by anything to lantern designing.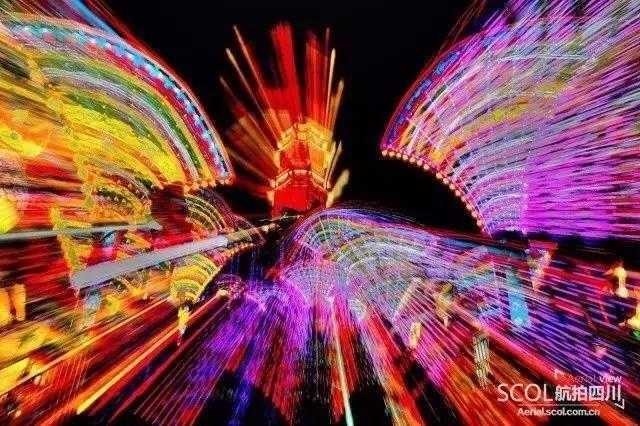 In Zigong, like Chen Jiaming and his son, there are many families in lantern industry.They inherit the essence of Zigong lantern culture, and carry forward. "In my father's company, more and more young people are entering this industry, and if I want the company to grow, I'm going to take the baton." In 2010, Chen Shi quit his job at the University and returned to Zigong to help his father in thelantern business.
The Zigong lantern industry is growing bigger and stronger.In January this year, multiple well-known Zigong lantern cultural enterprises merged with Shenzhen investment, andestablished of the Zigong Dengcai Lantern Culture&Industry Group Co. Ltd. Chen's lantern company is one of them, and Chen Shi also joined the lantern group company international business office.

"From a single lantern management to market development, and then to the international market, the role is constantly changing, but I always wish Zigong lantern culture to be spread around the world, so that more people understand both traditional and modern lantern technologies."
02 New Lantern Industry Bases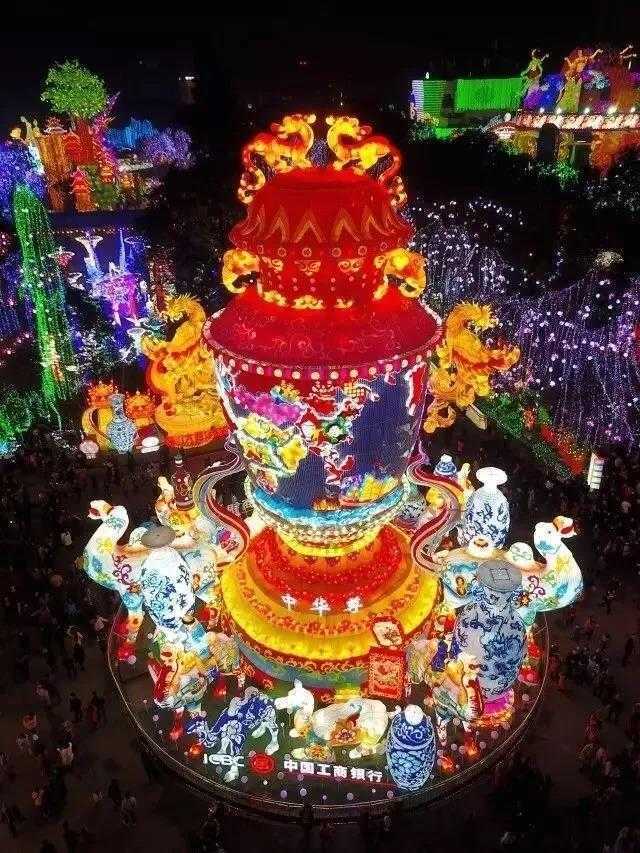 From simple lantern processing and lantern labor export in the past to today's technology output, property rights export, Zigong lantern industry is on the way of upward development, moving from entrepreneurial growth period to stable growth period of development.
At present, the City Lantern industry has formed a creative planning, lantern design, lantern landscape planning, lantern scenic spots, lantern crafts, simulation animals, lantern exhibition, model molds, lantern matching processing services and other categories, showing the pattern of professional division of labor.
"If the lantern show is likened to a 'battlefield', then we are the logistics support department for the delivery of 'shells'." The staff from Lantern Group material distribution center told reporters that the lantern exhibition is not simply the production of lanterns and display. Especially for foreign exhibition, we need to make semi-finished productsand then transport themby land, sea or rail to the hosting place, then install and assemble on site, which requires the material distribution center to calculate accurate transportation time, to control the quality, improve efficiency and finally ensure safety display."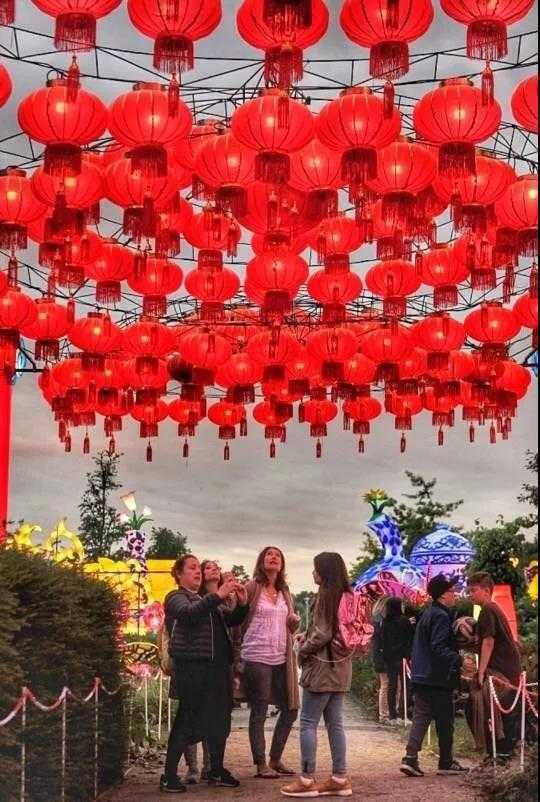 With the increasing influence of Zigong Lantern Festival, and flourishing domestic and foreign lantern markets, lantern bases has sprung up like mushrooms in Zigong. This year, Zigong will cooperate with OCT (Overseas Chinese Town) to build "OCT China lantern city" industrial tourism complex in the eastern new city of Zigong, which will start construction in the year. In addition to building a new theme park in Zigong to meet the needs of Zigong lantern exhibition, a large"Lantern Valley" is to be built to introduce domestic famous lantern enterprises and headquarters of Zigong lantern enterprise to set up offices, in order to promote large-scale development and production of modern light sources and lighting products.
At the same time, the lantern industrial park built partly or soly by lantern enterprises will appear, such asLantern & Trade Group's production base in Bancang, Genggu Longteng's production base, our professional production base in Bancang, Lantern Village of Zhongyi Company, Chinese culture and Creative Industry Park of Longteng Compnay, Simulated Dinosaur Park of Huilong Tang, etc. At present, the Chinese lantern culture industry park, which is planned by Haitian company, has been designated as the first provincial cultural industry experimental park by the provincial cultural department.
03 Lantern shining at home and abroad market
At the end of last year, Zigong Lantern Festival was approved as a "Global Cultural Festival" brand and wasmadeone of the important national "going-out"projectsChinese "spring festival culture".

During the Spring Festival this year, there are 10 lantern companies in the city holding 12 Lantern Festival abroad, and the Ministry of Culture listed Zigong lantern festival as one "Spring Festival" activity. Zigong Lantern Festival is now a famous brand in Sichuan province. It has developed brand names such as "Haitian lantern" and "Oriental lantern", and its brand has a strong competitive advantage at home and abroad.

Zigong Lanterns also shine overseas, such as San Francisco's "Chinese Lantern Day" and Houston's "Winter Dream Lantern Carnival", Singapore China town's "Chinese Lantern Festival", the "light of the world - Lantern Carnival" in US, "Longleat House Lantern Festival" in UK. Zigong Lantern Festivalshave won many international awards.
In addition, the export and exhibition market of simulatedproducts especially simulated dinosaursis showing momentum now, which covers more than 60 countries. In recent years, Zigong lantern has been the number one export of cultural products in Sichuan province.

In 2016, Zigong lantern trade and cultural products and services exports amounted to $21 million 770 thousand, an increase of 29.7% compared to 2015; there are 11 lantern companies hosting 35 lantern festivals in the United States, Britain and other 10 countries 30 cities, an increase of 52.17%. Up to now, Zigong lantern, there are 91 registered companies specialized in cultural exports like simulated dinosaur production and 32 enterprises on exporting lantern products. Zigong lantern has been evaluated by Ministry of Culture, Ministry of Commerce and other ministries and commissions as the key project of national cultural exports.