The 23rd International Dinosaur Lantern Festival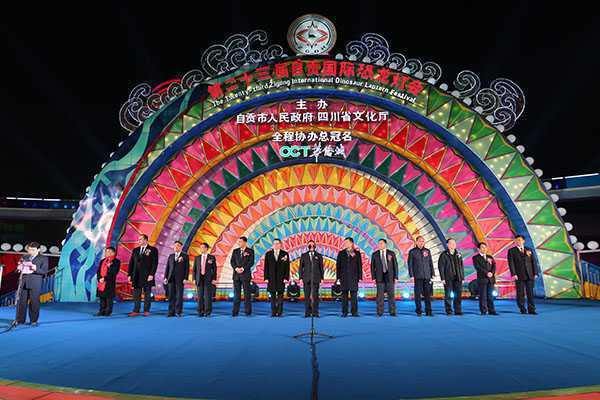 Opening ceremony of the 23rd Zigong International Dinosaur Lantern Festival
The grand opening of the 23rd Zigong International Dinosaur Lantern Festival is finally held. Our lanterns "Phoenix singing for spring", "Colorful Silk Road", "Beautiful Sichuan", "Peter Rabbit" and other receive the attention and praises of visitors with the rich cultural connotations and stunning art forms.

A golden phoenix with beautiful wings and colorful feathers forms a magical time tunnel. "Phoenix singing for spring" integrates a typical gate for traditional Spring Festival Lantern Festival with porch and channel. With transparent acrylic light and special light effect to a magnificent dream is formed to bring tourists into a wonderland.
In the "Colorful Silk Road" lantern, we add features of different countries along "Belt and Road": windmill of Holland, Colossseum of Italy, the Greek island of Santorini, the horn of Africa, Sri Lanka, Fuzhou ship administration culture, sculptures of Xi'an, Trinity Church of Kyrgyzstan...... Tourists can enjoy exotic cultures.
Lantern "Beautiful Sichuan" gives a broad glance of Sichuan characteristics: Sichuan ancestors are drilling wood to make fire in forest; Li Bing and his son are viewing Dujiangyan, which ushered in a new era of Chinese ancient history of water conservancy; Sanxingdui archaeological secrets; the Leshan Giant Buddha; cute pandas; tea culture, hot pot culture, opera culture, shadow puppetry culture. These Sichuan elements are shown with our lanterns, enough to make every Sichuanese proud.
Lantern "Peter Rabbit" is the only lantern that is granted with internationally renowned brand licensing. The joyful Peter Rabbit hops from the distant British family to Zigong Lantern Park, busy with building houses, planting crops, reading newspapers and running a grocery store here. The lovely image of Peter Rabbit is well received by viewers, especially the children.